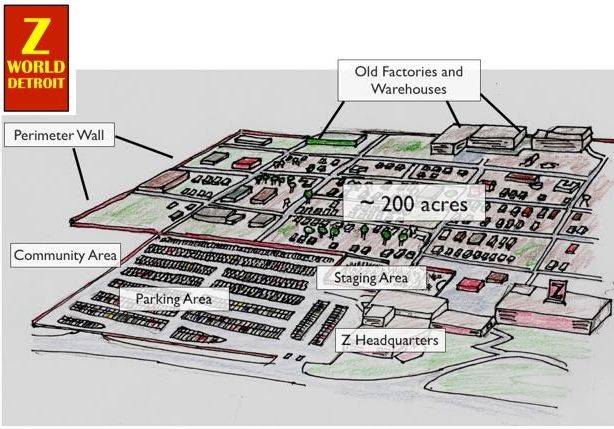 I just heard about this idea and I must admit that I find it extremely interesting: a bunch of people are trying to revitalize a huge abandoned area in Detroit with… zombies!
[quads id=1]
The project they have in mind is called Z World Detroit and wants to give birth to a post-apocalyptic zombie amusement park like no other: instead of going on joy rides and scare houses, you will actually have to spend a night there trying to survive the zombie apocalypse together with your friends and strangers. And the concept is absolutely amazing.
Here's a bit of the description of the upcoming (hopefully, if it gets enough funds) Z World Detroit:
"You, your friends and hundreds of others have survived the zombie apocalypse. You enter an enclosed urban landscape where a small, but growing, group of zombies is unleashed. How long can you last? Can you make it to morning? Can you find the needed supplies to survive? Will your hideout be overrun by zombies, forcing you to flee? Will you find refuge in an abandoned house? In an old store? In a hulking old factory? Will you be separated from the rest of your group and be forced to run solo? Will you join up with another group of survivors? Will you ultimately succumb, transforming into a zombie and hunting down your former friends and allies?"
In other words, this sounds exactly as a real life zombie apocalypse would sound like. Which is absolutely awesome and I would totally love to see this brought to life and turned into a franchise with similar amusement parks spawned all over the world.
But until then, you can help make Z World Detroit possible – their creators are looking for funds via IndieGoGo (click to visit for more details, too) – a lot of help is needed by the looks of the project right now, which only has about $4,000 raised from the required $145,000.
[quads id=3]