Usually, low budget zombie short movies are nothing but crap but every now and then a project that gets out of that D-class movie appears and I am happy to write about one today. We Are What We Eat is a short British zombie movie written and directed by 16 years old Sam Toller – and this should be a reason strong enough to make you curious about the movie.
We Are What We Eat tells the story of high school girl Nicole that is bitten by one of her friends that turns zombie (or maybe she's not bitten… who knows?). It's a good premise, even though it basically brings nothing new to the genre, but we're talking about a genre that doesn't have many rooms for innovation in the first place.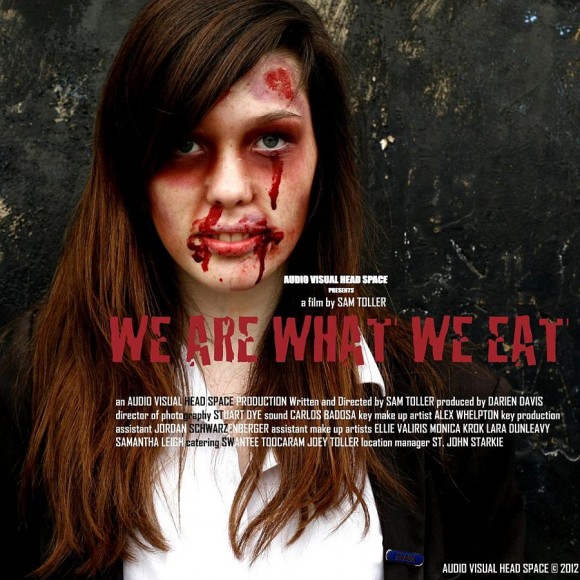 What you notice first from We Are What We Eat is its ambition: although obviously a low budget movie with amateur actors and shots that are way too lengthy and boring, this zombie short is not made like your regular low budget short. The make-up is fantastic for these levels, the image quality is great and overall everybody did their best to turn something otherwise cliche and unspectacular into a pretty solid project.
Probably you won't fall in love with We Are What We Eat, but you won't hate it either. What matters the most is that the shots themselves are beautiful, the potential for future movies created by Sam Toller (and maybe together with the same team, minus the school teacher) is great: after all, we're talking about a movie made by a 16 years old that's better than half the zombie shorts I've seen in my life (and I've seen a lot).
The zombie movie We Are What We Eat will have it's premiered at Seattle's NFFTY, and you can find more information about it on IMDB. So if you have the chance, check this movie out, as an encouragement for the young writer/director and the promising young actors.