Apart from a more casual Walking Dead game that we'll get on Facebook, fans of the TV show and the comic book series will also get a more hardcore version, the Walking Dead video game created by Telltale Games, which will be released pretty soon. And now the first ever trailer for The Walking Dead game has been released and you can check it out in a video below.
Created by animator and director Daniel M. Kanemoto, the trailer blends 2D and 3D imagery in stunning fashion as homage to the art of the original comic book world on which Telltale's game is based. Kanemoto was asked by Telltale to create the trailer because of a "fan made" Walking Dead title sequence he had made, which can be seen at www.exmortisfilms.com.
Check out the Walking Dead video game trailer below:
Even more interesting is the fact that the developers of the game, Telltale, have also kicked off a pre-order campaign on their site, which has a pretty interesting incentive: there is a grand prize that if you win, will have you "put into an episode of our The Walking Dead game as a human character and murdered gruesomely – only to be resurrected as a member of the undead and put down once and for all!" Absolutely amazing – too bad that there's just one prize, I'm sure there will be a real fight for it.
Here's how the winner should expect to look like a zombified, Walking Dead version of a rotting corpse: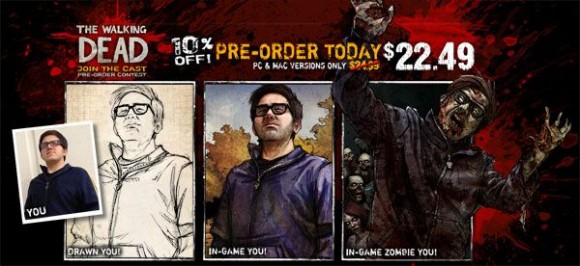 Everything seems to be really nice when it comes to The Walking Dead video game from Telltale, don't you think?